KELLY'S CHEWY
GINGERSNAPS
SPARKLE COOKIES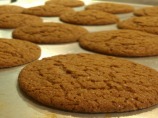 Photo by ChicagoShannon
PREP TIME:

10 mins

TOTAL TIME:

20 mins

YIELD:

60 cookies
ABOUT THIS RECIPE
" These cookies are chewy, delicious and easy to make. They stay fresh for quite a long time and also aren't too sweet. This recipe does not double well."
1 1/2 cups butter
2 cups sugar
2 eggs
1 cup molasses
1 teaspoon vanilla
4 1/2 cups flour
4 teaspoons baking soda
2 teaspoons baking powder
1 teaspoon salt
2 teaspoons cinnamon
1 teaspoon ground cloves
1 teaspoon ground ginger
DIRECTIONS
In a large bowl, cream butter and sugar together using a hand mixer. Add other wet ingredients and mix.

Add dry ingredients and mix. Dough should be easy to handle and not sticky. Add a little more flour if necessary. The dough should NOT be dry.

Shape dough into one inch balls and roll in white sugar.

Bake on an ungreased cookie sheet at 350 degrees for about 10 minutes. Remove immediately from cookie sheet onto cooling rack. Enjoy!